Started the morning with antibiotics infusion. As I laid out the materials, I found that I was left with the last piece of heparin plug for my CVC line. I remembered I should have sufficient supplies to last me till tomorrow. So I quickly rummaged through my medical supplies bag hoping to find another plug. Nil.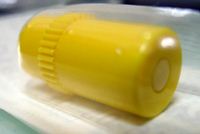 Geylang East Polyclinic Pharmacy is closed on Saturdays. NUH Pharmacy does not sell heparin plugs, otherwise I could get my brother who was heading to NUS to buy for me. It was Gwen's off day this week. Sock was working today but she did not reply to my whatsapp message untill 12.30pm. I had to make a trip to the pharmacy myself!
Reached the pharmacy around 11.45pm. Each heparin plug costs S$0.60. Felt stupid if I were to buy only one plug, so I grabbed five, made my payment and left. Run some errands, reached home about 1pm for lunch and crashed into my sofa. Exhausted.
On a bright side:
1. I discovered the low stock early and on a Saturday when the pharmacy is still open.
2. It didn't take me long to get to the pharmacy. And I saw Dr Veera on the way, he remembers me and we exchanged greetings!
3. I learned from Sock that next time she can help me buy the supplies at staff price!
4. I found out that the 10ml syringe in Tan Tock Seng Hospital Pharmacy is cheaper by about 30%!