I was reluctant to return for the fourth cycle of chemotherapy after staying home for so long. Or maybe I was more worried about my dad's deteriorating health that I wanted to stay around to help. I told myself I had to do two things before I leave for chemo this time – to give dad a hug and take a photograph with him.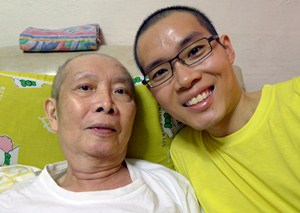 11-Oct
The very first night in Room 4 was very spooky. Staff nurse Yvonne came in 4 times attending to nurse calls which I swear I have never activated. She disconnected my bed's nurse call cable from the wall panel and gave me a separate call button which solved the problem.
It was too much of a coincidence: 4th chemotherapy, SSN Clarice called me at 4pm to notify me to check in, Room 4, disturbed around 4am by nurse call 4 times and next day going to do the 4th bone marrow aspiration. Chinese dislikes '4′. So do I.
12-Oct
Dr. Ho came by in the morning and presented me with the HLA Typing report. My siblings and my blood were tested for bone marrow matches, in case there is a need for transplant in the future. Our bone marrows match completely! This news is sufficient to make any leukaemia patients jump for joy!
BMA was done by Dr. Zaw. He said my bone is very hard. By those words, you can tell how sensational the whole procedure was to me. After I was done and returned to my wheelchair, a patient next to me asked: "Is it painful?" We chatted a bit while the medical team was making preparation for his BMA. He was recently diagnosed with lymphoma. It came so unexpectedly as he did not feel anything amiss before the diagnosis.
Chemo commenced in the evening. I was not given any itraconazole syrup this time. Decided to keep quiet about it and swallow its capsule form instead. Had bloated stomach as usual, but I would still blame the hospital menu for my poor appetite.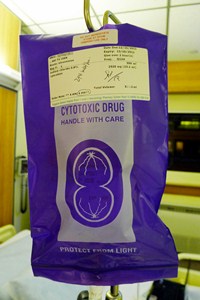 17-Oct
I have completed chemo in the morning. My diets tasted weird, perhaps metallic taste is a better description.
After dinner, I received information that my family was sending dad to A & E to check on his right leg which he could not move. It was approaching midnight when he finally got transferred to an available bed, and it was in the same ward as me!
18-Oct
After the doctors have completed their rounds, I masked on and 'sneaked' out of my single room to visit my dad. Soon every nurses knew my dad was in the same ward and they would asked me about my dad whenever they came into my room. For a few days, I did not feel like I was a patient.
23-Oct
A single dose of pegfilgrastim was injected to boost my neutrophil counts.
30-Oct
Was down with chills and high fever the past two days. Vomited a bit and appetite was poor thereafter. Shivered so hard that I switched off the air-conditioner and hugged a heat pack underneath three blankets.  Blood culture was done and a gram-negative bacteria, Klebsiella pneumoniae, was found. Antibiotics treatment was reduced from a strong and broad-spectrum vancomycin to a narrow-spectrum ertapenem.
7 Nov

The infectious disease doctor had requested for a CT scan to identify the source of infection. Breakfast was at 4.45am as I had to fast before the CT scan. The CT scan machine reminded me of a time machine or a portal that I can return to the past. How I wish it was one that could bring me back to the past.
8-Nov
The radiologist spotted an abscess in my liver which was likely the source of infection. The infectious disease doctor reviewed my case in the afternoon and recommended the course of antibiotics to be extended to 6 weeks.
Met the family of a young lymphoma patient at the patient's tv lounge. The little girl was feeling down and her family wanted me to talk to her, hoping that I could cheer her up since I have been through chemotherapy. I think I failed at cheering her up, but I was not too worried as her prognosis is pretty good. I hope she would take a step back and look at the big picture – she has a beautiful life ahead!
9-Nov
The team doctor came this morning and repeated the same things the infectious disease doctor said. They had arranged a late discharge for me, which I had rejected as I would have to return to Haematology Centre for ertapenem infusion.
10-Nov
I was given 28 vials (S$2520.00) of ertapenem to take home. If you do the math, you will get $90/vial/day. How does it sound to start your day with an expensive breakfast that does not even make you full?  Thankfully I am insured.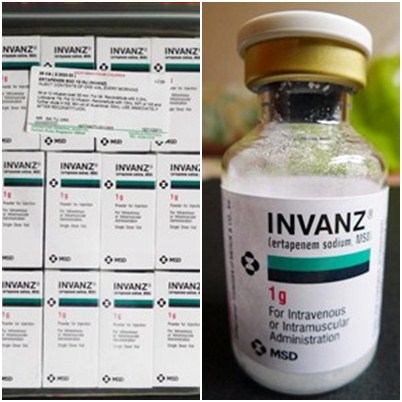 A few leukaemic cells were still found in the bone marrow. This means I will need to return for a 5th chemotherapy. Prior to that, we have to ensure the liver infection is totally cleared out. Meanwhile it's daily antibiotics infusion for me and followed by another CT scan to review the size of the abscess.
To better health!