Good afternoon! I am feeling fresh after a good nap and a nice tea break. Decided to do a quick update about the recent salvage chemo treatment.
Admitted into SGH on 11 Jan 2012
Done a MUGA heart scan before the chemo
Chemo protocol: FLAG-ida (Fludarabine + Cytarabine + Idarubicin) given daily over five days, except for idarubicin which was given daily by bolus over three days.
Side effects experienced: Nausea, itchy rashes developed on thighs and back, hair loss, rapid drop and slow recovery of blood counts, virus and bacteria infection.
I was warned that FLAG-ida is a very strong chemotherapy compared to what I had received thus far. True enough, the nausea effect was really disturbing but fortunately it was only during those five days of chemo.
A skin biopsy was done for the rashes and it was found to be due to drug allergy reaction. The itch was unbearable at times but the medical team helped me to manage it well with Sarna lotion, moisturizer and atarax.
I was pretty upset that my total white blood cell counts made a steep decline two days before Chinese New Year. I was hoping to obtain a home leave to have a reunion dinner with my family at home. The risk of infection out there was too high for me to leave the hospital. But I managed to have home-cooked food, cooked freshly by mum, and delivered by my siblings. That was priceless, I gobbled up everything my mum put in the tingkat.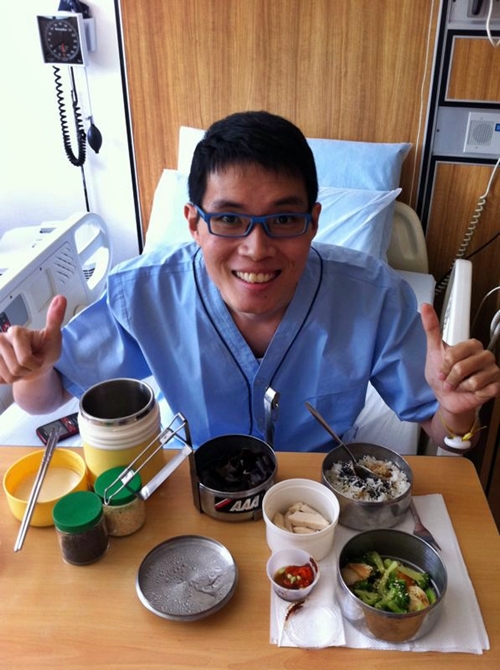 Peiling, Wei Yuan and Mei Ying accompanied me on the second day of CNY. We played monopoly deal and the small mahjong tiles Wei Yuan brought. After we finished the games, I ran a temperature and was down with fever for two days. I had the worst chill ever, whole body trembling hard uncontrollably. The nurses had to switched off the air-con and cover me with four thick blankets. The culprit was later found with a simple throat swab – it was a common virus that caused running nose and cough. Thanks to Ribavirin (anti-viral drug) and procodin (suppressed my cough), I was well again!
Last Thursday (2-Feb),  I spiked a fever again. This time the culprit is Escherichia coli. As of now, I am still on antibiotics (Cefepime).
Today, Dr Yiu said I would have to stay for at least another 9 – 10 days to complete the entire course of antibiotics. My white blood cells finally rose above the 0.2 mark to 0.47! Happily counting down to going home soon!