Health Report Card
Done a bone marrow biopsy on 22 Aug and the results show about 5% blast and ~50% mutated t8-21 cells in the bone marrow.
Not very exciting results but that's pretty much the characteristics of cancer cells. They grow fast, damn fast. A seed will grow into a plant only when favourable conditions are met. I wonder what are the favourable conditions that make these t8-21 grow so fast.
In any case, I was scheduled for 2nd cycle of AzaCITIdine low dose chemo which I have completed the last dose today. Each chemo jab costs $700+. The bills just helped me earn another $200 cash rebates for swiping >$4,000 in a month on the Standard Chartered Manhattan Platinum Card. This is really a rewarding card to have when you have large medical expenses each month.
- – -
Unpredictable Schedule
Because of possible treatments, appointments and poor immunity, I have been rejecting wedding invitations. For general gatherings, I can only confirm my attendance closer to the date (usually after blood test). Luckily all my friends are understanding.
In support of Liting (my partner-in-crime), and as a treat to my travel buddies, I bought tickets to a play titled "Doctored" after my discharge on 3 Aug. I wasn't very sure if I could attend it as I'd been told that I might be doing a week of low dose chemo treatment. Leave it to fate, I thought. It turned out that I made it to the play but Peiling and Wei Yuan had to pull out due to work commitment. Fortunately, the tickets didn't go to waste. I managed to sell one and give the other ticket to Gwen.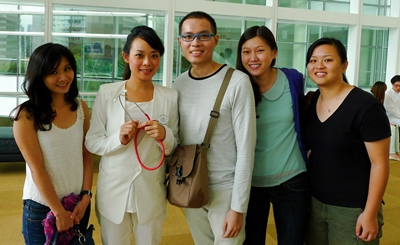 A picture with Liting (lead role as Dr Dai).
After the show, Qipei and I headed to Le Chasseur for two-generations Farrago dinner gathering. Similarly, I could only confirm my attendance the day before. But I was very happy to catch up with these group of volunteers and also very thankful for their care and concern.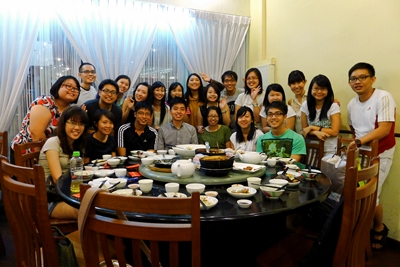 Freeze your smile for Farrago!
I used to be very cautious of where I go and what I eat. But gradually, I learned to let go of these fears and I found life in my life. Sometimes I wonder why do one seek treatment to extend his life but only to live a life without much life. It's like building a Titanic and keeping it at the harbour. However, having said that, I still exercise caution by sticking to neutropenic diet and avoid sick people.
- – -