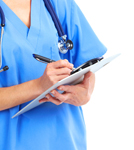 I have never thought about doing a health screening, much less at the age of 27 when I was still young and active. It was a series of events that prompted me to have my health checked. I experienced many unusual signs and symptoms which brought about some inconvenience to my lifestyle. Among the symptoms are fatigue, mild fever after evening jogs, breathlessness and palpitation.
The cheapest way to find out what could possibly be wrong with me was through the information-rich Internet. So I searched Google and shortlisted a few possibilities – chronic fatigue syndrome, heat injury and lack of rest. For fear of a wrong self-diagnosis, I visited the GP. The GP associated my symptoms with the hot weather, insufficient hydration, stress and individual stamina or fitness level, and suggested that I monitor these symptoms for the next few days.
Coincidentally, as it seemed, I received a 'birthday treat' of a comprehensive health screening package at a special rate of SGD$188. I applied for annual leave and went for the 'treat'. With an appointment, there was not too much waiting time and the healthcare services were professional. As my electrocardiogram looked abnormal, the doctor suspected either a cardiac or thyroid problem. I was told to expect the doctor's call in the afternoon once the other test results are out.
At 1.30pm, the doctor called to say: "Hi Mr Sai, your haemoglobin level is very low at the moment. Please take a cab down to either NUH or SGH A & E immediately! Don't even consider taking the public transport like bus or MRT." It was only at SGH A & E, that I found out I have leukaemia. I am thankful for the health screening that I had done in time to have my leukaemia treated early.
The take home message:
Listen to your body signals and any health warning signs.
Never attempt to self-diagnose, always seek a professional.
Have your health checked annually regardless of your age. (If you are young and healthy, a health screening will serve as a reference for your future check ups.)