Here's a very good video explaining what leukaemia is:

A simple full blood count (FBC) detected unusual low haemoglobin and platelets level, and high concentration of white blood cells and blast cells in my blood, which are characteristics of leukaemia.
However, FBC alone does not differentiate the type of leukaemia I have. Hence, cytogenetic analysis on my bone marrow cells was necessary to determine the diagnosis, prognosis, management and treatment of my leukaemia. Karyotyping of my bone marrow cells shows chromosomal abnormality – translocation between chromosome 8 and 21.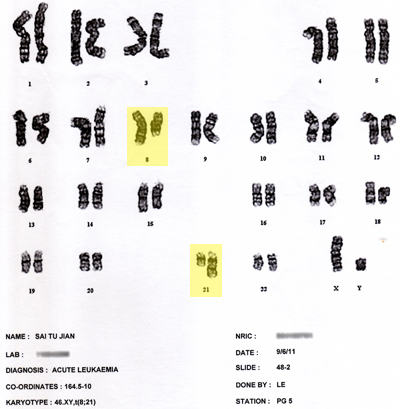 I am thankful that it's only leukaemia (with good prognosis) and the diagnosis is simple and straight forward. I had seen and heard many patients directed to different specialists and went through lots of procedures (e.g. scans & scopes) to identify where the problem lies. My advice for all – commit to regular health checkups and visit a doctor if you feel unwell. Most important of all, maintain a healthy and active lifestyle!