It has been a week since I was discharged from SGH. I did not make any plans to go out as I felt my body needed more time to recover, and besides, any infection can easily send me back to the hospital. Even for the twice a week clinic follow up, I diligently put on a mask when I stepped out of the house. Mode of transport was mainly by taxi or my sister would give me a lift to avoid crowded public transport. My feet got tired, worn, and aching whenever I stood and/or walked for an hour or less – clearly a sign that I needed more rest.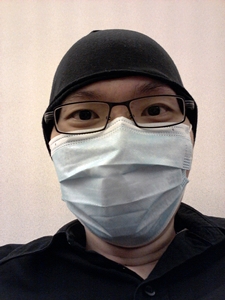 I took the opportunity to catch up with some administrative work – outstanding insurance claims, updating my company and requesting for SAF Medical Board Review. My PES status review should due very long ago as my request via phone was done in September 2011. But there were no updates except for a SAF 264 Charge notification for not attending RT. I emailed my story requesting for waiver of charge and to expedite my Medical Board Review, the reply was so much faster with black and white. The charge was waived and the Medical Board Review was scheduled today. Would it be a clean discharge or just PES downgrade?
On some days, we help to baby sit my niece. Her energy level is, at times, too much for me to handle. Luckily, there was iPad 2 to keep her entertained with hours of Disney Mickey Mouse Clubhouse.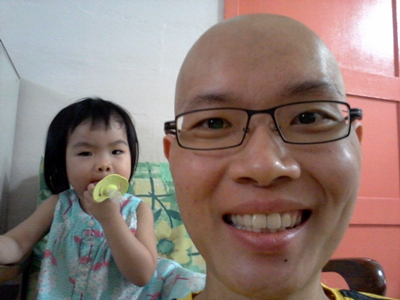 Yesterday I rewarded brother and myself with pork chop with apples and onions, based on Martha Stewart's Recipe. With my wrecked taste bud, I could only appreciate the texture of the pork and asparagus. Well, at least I enjoyed the cooking process, though tiring.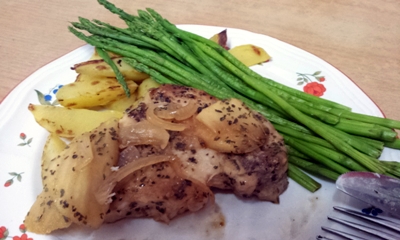 Being put on a 3 months home-cooked-food-only dietary restriction, the ability to cook will benefit me in many ways. I get to control what I eat, the ingredients and how the food is prepared. I know I cannot rely on mum forever, so the next best person to depend on is myself! I enjoy doing experimental cooking and trying out new recipes especially when mum is not around to supervise. Shall search for more interesting recipes to cook while I am cooped up at home!