Everyone told me it is not easy to go through bone marrow transplant (BMT) treatment – one would need to be strong physically and mentally, to go through the harsh chemotherapy treatment. I am just extremely glad that this treatment is over and hope that the transplant is successful and I would never need to do chemo anymore!!!
The bone marrow transplant protocol is divided into three phases: 1. Chemotherapy Phase (Before Day 0), 2. Peripheral Blood Stem Cells Infusion Phase (Day 0), and 3. Engraftment and Recovery Phase (Post Day 0).
27 Feb 2012 (Day -8), a wet morning. The rain had stopped but mum and I only managed to flag down a cab after 45mins. We checked-in into Ward 48A and were ushered into Room 4, the place I call home for the next one month or more. The medical equipment (e.g. infusion pump and blood pressure meter) looked first class.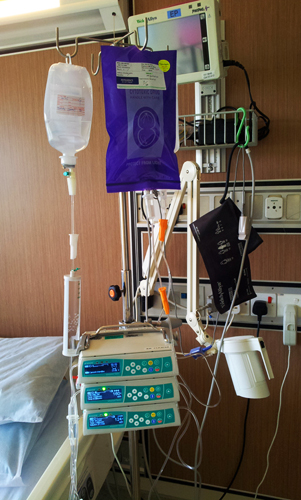 The panoramic view outside the window was splendid – Duxton and CBD area on the left, PSA in the middle and cable cars to sentosa on the right. The treatment lined up for the day was an intrathecal (IT) jab and the start of 3L saline hyperhydration. I remembered during the second cycle when I had my first IT jab, the side effects were too much for me. This time I was extra careful, obediently lying flat on the bed for 6 hours, even if that meant little or no dinner for that day. Time went by slowly, I finally got up near midnight to have a cup of milo and biscuits.
28 Feb 2012, Day -7.
My obedience served me well indeed – no headaches, nausea or vomitting! One obstacle conquered! The pharmacist came with an informative handout on the drugs I would be taking and their potential side effects. It is a long list but thankfully they are not long term medication and will be gradually taken off as I get better. I have never swallowed so many tablets and capsules before in my life, they looked so intimidating!
Busulphan chemotherapy infusion started about 2.30pm. By night time, my stomach was churning a bit.

(
29 Feb 2012, Day -6.
Happy Leap Year! Bag 2 of 4 busulphan infusion today. Everything still holding except for one of the CVC line stitch. Had it re-stitched by Dr Kwan.
1 Mar 2012, Day -5.
Woke up with slight nausea and a bloated stomach, signs of vomitting coming. Third bag of busulphan infusion and I am halfway through the chemotherapy phase!!! Breaking up the challenges into small bits and knowing that I had overcome these short term challenges motivated me more than counting down to discharge day.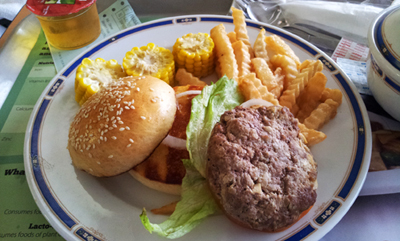 Had my diet upgraded to A Class. Finally got to try the long awaited mutton-tofu burger, but the mutton was inducing nausea. Together with the bloated stomach, my appetite was poor. It was not enjoyable at all.
My brother, the donor, went for his first GCSF injection to give a boost to his stem cells growth.
2 Mar 2012, Day -4.
My body finally surrendered to busulphan, I puked after a sip of milo. This nauseousness is building up and it is causing me to rest more on bed. Last bag of busulphan and all I have to do, can do, was to endure. Begun cyclosporin A (immunosuppressant) infusion; it caused hot flushes, making me looked red. A better description of the hot flushes is the internal heat that one feels when he/she comes to a stop after an hour of jogging, less the perspiration.
3 Mar 2012, Day -3.
After 4 bags of busulphan, cyclophosphamide was up next. Strongest chemo between the two, and probably the strongest I have received thus far. Strongest in terms of the side effects… and it was really no joke. After the infusion at 8pm, I felt a horrible burning sensation around my mouth and it made me restless until 1am when it finally subsided. I felt defeated and wanted to give up. It was really a mental and physical struggle.
4 Mar 2012, Day -2.
After last night's 'torture', I was half dreading and half looking forward to the last bag of cyclophosphamide. Been vomitting on average, twice a day, and it was really making me sick. The burning sensation made things worse, but fortunately this time it did not last as long as the day before. I knocked out happily, knowing that it was finally over.
5 Mar 2012, Day -1.
It was a day of rest before the stem cells infusion tomorrow. My brother folded some paper cranes and hung them around the room to cheer me up.

)