Would you believe me if I tell you I have never been to the Jurong Bird Park? The truth is I have represented HI! Club to perform song sign on the song "If We Hold On Together" for SADeaf's International Deaf Day at the park many years ago. But I did not get a chance to visit the attractions inside the park.
Thanks to deal.com.sg, we got a pair of discounted tickets to visit the bird park!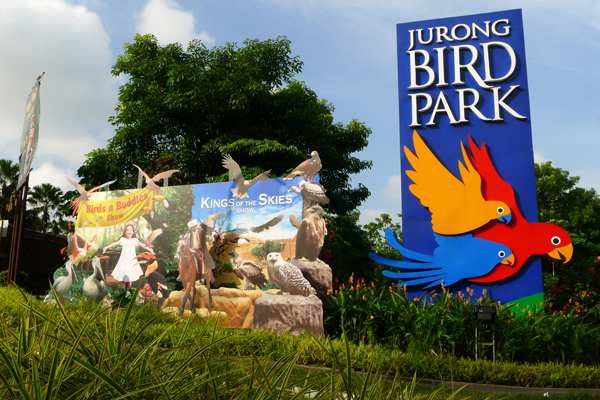 A perfect day to visit Jurong Bird Park!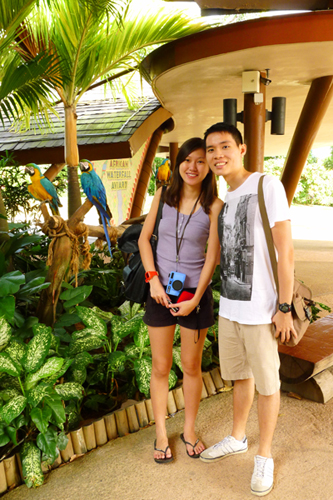 Two love birds.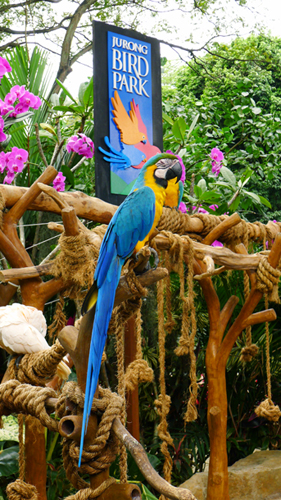 A Blue and Gold Macaw (Ara ararauna) posing for a photo with visitors.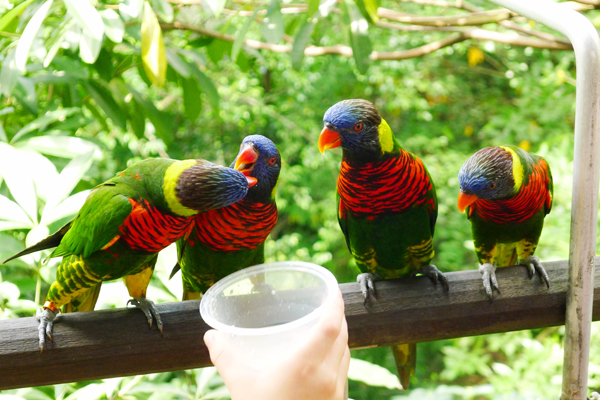 Getting up close to feed and interact with Rainbow Lorrikeet(Trichoglossus haematodus).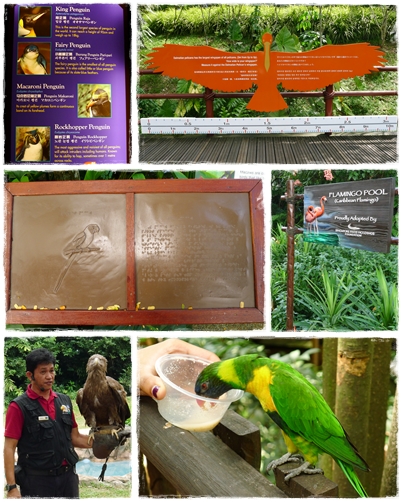 I must applaud Jurong Bird Park for their efforts in educating the visitors about the special features of each individual bird species. Informative boards (some with braille for the visually handicaps), guided tours, feeding sessions, bird shows, and opportunities to get close and interact with the birds – all these definitely spark interest and spread awareness on the importance of wildlife conservation.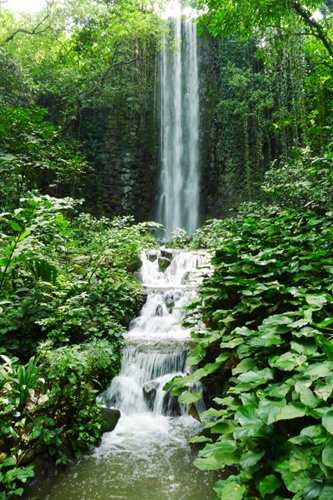 Presenting to you the world's tallest (30 meters) man-made waterfall at the African Waterfall Aviary. Does it still hold the record? In any case, be warned that we have voted this attraction and Parrot Paradise to be mosquito-zone! I wonder if our avian friends get annoyed by the mozzies.
The Jurong Bird Park has lined up educational and exciting bird shows as well as a great variety of exhibits for all. Bird photography alone can keep photography enthusiasts occupied for a long time. It would be good to go to the park with a long zooming camera and a tripod/monopod to get a nice shot. I did not enjoy shooting (with camera) the birds because they move faster than my index finger on the shutter button, some are caged up, and I was limited by the 3.8x zoom of my LX 5. Nevertheless, the blue and golden macaws and the lorrikeet are more patient with amateurs like me.