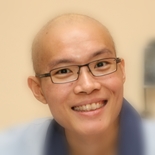 I was born in May 1984 and I have been living with my lovely parents and siblings in Singapore ever since. After graduating from Nanyang Technological University, I took on a very challenging appointment in Tanah Merah Country Club as an Assistant Golf Course Superintendent.
In May 2011, I began to experience unusual symptoms such as palpitation and breathlessness. A health check showed that I have a low haemoglobin and high white blood cell count. I was admitted to Singapore General Hospital on 8 June 2011 and I was later diagnosed with Acute Myeloid Leukaemia, subtype M2 (AML-M2).
Since then, I have started my chemotherapy treatment in the hospital. For each treatment or cycle, I have to be confined in the hospital for about four weeks. I disliked the idea of having too much idling time in the hospital. Hence, I decided that I could use the time to blog about my cancer fighting journey.